To prevent visitors from viewing your WebSpace, turn on the Coming Soon or Maintenance Mode Page. Visitors that are not logged in will see this page.
For search engines, the Coming Soon Mode is still searchable if your site has not been set to private. Whereas, in Maintenance Mode it will let search engines know that the site is unavailable. Before you can use Maintenance Mode or a Coming Soon Page, you will need to activate the SeedProd plugin.
Step 1:
From your Dashboard and click on Plugins and then click Activate under the Coming Soon plugin by SeedProd .



Step 2:
Once Seedprod has loaded, find it in the menu on the left side and click Pages then choose the link for Set up a Maintenance Mode page 
On the next screen choose the look of the page you want to use and then click Save in the upper right hand corner then use the X button to leave.


 Step 3:
Go back to the SeedProd menu and click on Pages, then find the Maintenance Mode section and toggle the switch from Inactive to Active. Once activated you will see a message in the upper right hand corner advising you that Maintenance Mode is on.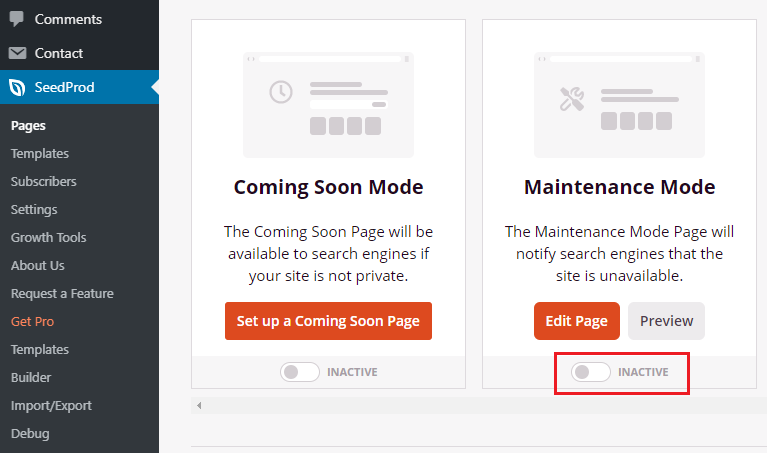 Note: You will need to Log Out in order to view the Under Construction text on your WebSpace home page (if you have previously set the page set to only be available to registered users you will not see the Maintenance page as this setting will force you to the login page instead).
To turn off the Coming Soon or Maintenance Mode, click the toggle button from Active to Inactive.
---

Content on this page is licensed under a Creative Commons Attribution-ShareAlike 4.0 International license.