Once a course is over and the instructor has finished grading, the instructor submits the grades to the grade approver. The grade approver (often a school director) reviews the grades. Once the grades are approved by the approver, students will be able to see them in MyAdmin.
Approving Grades
Final, approved grades must be submitted to Unit4 within 15 days of the end of the course.
As the approver you will receive an email notification once the instructor has finalized grades for a course.
You don't need to wait for the email to arrive - you may view the Grade Approval report any time to see all courses you are responsible for approving.
Log in to Moodle
In the nav drawer on the left at the bottom, click on Grade Approval.



You should see the report below with the following sections:
Graded - the course has been graded and submitted for your approval
Pending - the course has reached end date but hasn't yet been graded. (Poke the instructor to finish grading ;)
Denied - you've denied the grades and the instructor must re-submit them for approval
Approved - these courses have final, approved grades submitted to Unit4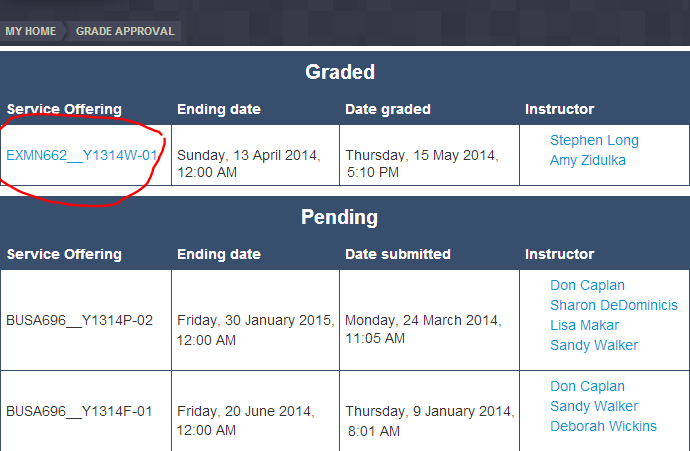 To approve grades:
Click on the link to a course in the 'Graded' section. You should see this:

Review the grades
If you approve of them, click on 'Approve All'
Then click the 'Save' button. This will bring up another button 'Send to Unit4'
If you are satisfied with all the grades, click the 'Send to Unit4' button to submit them directly to the registrar's student system (Unit4).
Note: Approvers cannot change a grade, they can only accept or deny the given grades.
Denying Grades
If you need to deny the grades,
Click the 'Deny' button next to the student or students whose grades you want to deny.  Alternatively, click on 'Deny All' to deny the entire course.
Fill in the 'Comments regarding Denial' text box to send a note to the instructor explaining why the grades in question have been denied. 
Click 'Save'
Click 'Send Denial'
The instructor will receive an email with the denial and your note
Once the instructor has made necessary changes, they will click the 'Re-submit' button triggering another email to let you know the grades are again ready for approval.

Note: If you deny even one student's grade, no other grades for the course can be submitted until all grades are approved.
Final Approval
Once you have approved all grades for a course and click the 'Send to Unit4' button, there is no going back.
Once grades have been approved, they will automatically be exported to the student information system at about 8-8:30 am on the current or following week day (correct as of 2021-04-06).