The Chat activity module allows participants to have a real-time, text-based synchronous discussion in a course.
Topics Covered In This Article
Why Use Chat?
Chat has an advantage over Forum in that it takes place in real time. It is especially beneficial when the group chatting is not able to meet face to face. Examples might be:
Regular meetings of staff on large or split campuses to discuss student or curriculum issues
Regular meetings of students doing online courses to enable them to share experiences with others on the same course but potentially in a different city (or country)
An off-campus teacher working with students
Students temporarily unable to attend in-person may chat with their tutors to catch up with work
Students out on work experience getting together to discuss their experiences with each other and their tutor
Why NOT Use Chat?
Unless a tutor/moderator is permanently present in Chat or unless Chat is hidden and revealed at certain times, it is difficult to control what is said once a chat has started
Some students may find it difficult to stay on task and be prone to adding non-useful comments
In some situations, a forum might be preferred as it allows for reflection before posting and gives a period of time where the post might be edited
It may take longer to have
For more advanced synchronous activities, consider using Collaborate or Bluejeans web conferencing in place of Moodle Chat.
Chat Setup
Continue with a video presentation and/or read below for text:
1. From the main course page, click the Turn Editing on/off button in the top right corner.

2. Locate the section in your course where you want to add the Chat. Click Add an activity or resource, choose Chat.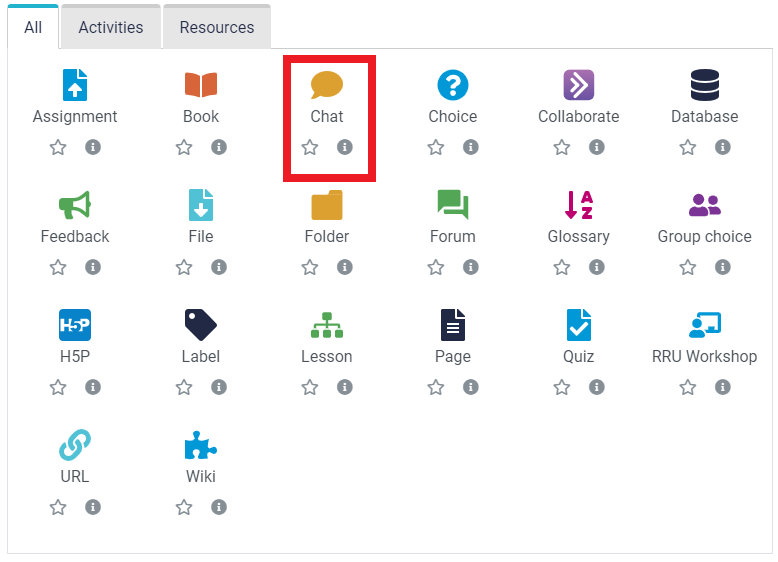 3. Type a name into the Name of this chat room field. This will appear as the activity title. The Description field is optional, but it's recommended that you describe the purpose of the Chat.

Next chat time allows you to set the date and time of the next chat session, which appears in the upcoming events block. However, it will not stop anyone from accessing the chat.
Repeat/publish session times - there are four options for scheduling future Chat sessions:
Don't publish any chat times - there are no set times and students are welcome to chat at any time.
No repeats - publish the specified time only - only the Next chat time will be published. This could be used to schedule special events or meetings or simply to help learners identify a common time in which they can expect to find other learners in a chat.
At the same time every day - daily chats are useful for scheduling daily office hours or work sessions with learners.
At the same time every week - this setting will schedule a chat for the same day and time every week, which could be useful for meeting and reviewing key ideas and questions related to the week's content/assessment, for example.
Save Past Sessions allows you to determine how long past sessions will be saved, including the option of never delete messages.
Everyone can view past sessions determines whether only instructors/staff can see past sessions or students as well.
4. Scroll down and select Save and Return to Course.

---

Content on this page is licensed under a Creative Commons Attribution-ShareAlike 4.0 International license.