The forum activity allows students and teachers to exchange ideas by posting comments. There are five basic forum types. Forums can be configured so that the posts are graded by either the teacher or other students. 
This article is about how to add a forum. To learn strategies for facilitating discussions in forums, see this related article:
How To Add A Forum
Continue with a video presentation and/or read below for text:
The Forum can be used in many ways: from simple communication of information from the instructor to the class (as on a bulletin board), to the assessment of learner discussions.
1. From the main course page click on the Pencil and box Edit Icon OR click the Gear Icon in the top right corner and click on Turn Editing On from the drop down menu.

2. Locate the section in your course where you want to add the Forum poll. Click Add an activity or resource, choose Forum and click Add.
3. Type a name into the Forum name field. This will appear as the activity title. The Description field is optional, but it's recommended that you describe the purpose of the Forum.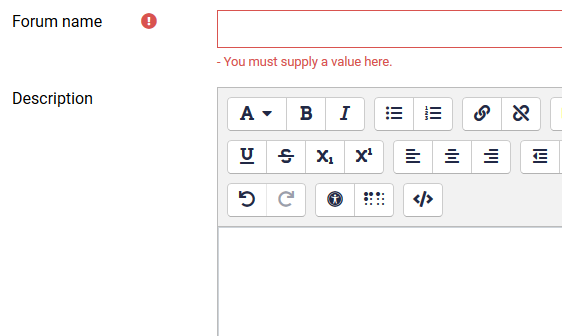 Forum type – There are 5 types of forums to choose from when creating a discussion forum.

A single simple discussion: A single discussion topic which everyone can reply to.
Each person posts one discussion: Each student can post exactly one new discussion topic, which everyone can reply to.
Q and A forum: Students must first post their perspectives before viewing other students' posts.
Standard forum displayed in blog-like format: An open forum where anyone can start a new discussion at any time, and in which discussion topics are displayed on one page with "Discuss this topic" links.
Standard forum for general use: The Moodle default, is an open forum where anyone can start a new discussion at any time.
Miscellaneous settings
Attachments and word count - the maximum attachment size is 20 MB. Choose the maximum number of attachments that can be added to a post. Choose to display the word count for each post.

Subscription and tracking - You can change the subscription mode for a forum. When a participant is subscribed to a forum it means they will receive email copies of forum posts. Read tracking, if enabled, allows participants to track read and unread posts in the forum.
There are 4 subscription mode options:
Optional subscription - Participants can choose whether to be subscribed
Forced subscription - Everyone is subscribed and cannot unsubscribe
Auto subscription - Everyone is subscribed initially but can choose to unsubscribe at any time
Subscription disabled - Subscriptions are not allowed
NOTE: if you change a forum from Forced subscription to optional subscription, course participants (students, instructors) will be unsubscribed from the forum and will need to re-subscribe to receive emails.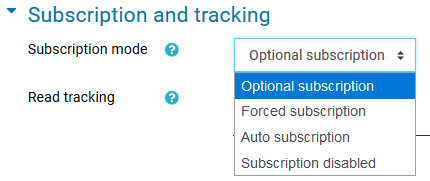 If you would like the discussion forum to be graded, you can assign it to a grade category. How to set up grade categories is available in the grading tutorial.
Discussion locking
Instructors can lock forum discussions after a period of inactivity (e.g. 1 day, 1 week, 1 month, etc.) so that students can no longer reply to to the forum. Permitted users (e.g. instructors, PAs, etc.) can unlock discussions by posting a reply. When students click to view a locked forum thread, they will see a message that the discussion has been locked. They won't have a reply button and will not be able to reply to posts. However, teachers and anyone with the capability to reply to locked discussions can unlock them simply by replying. The drop-down menu provides options for locking the forum discussion after a period of inactivity. The default is for discussions to never be locked, allowing students to contribute at any time.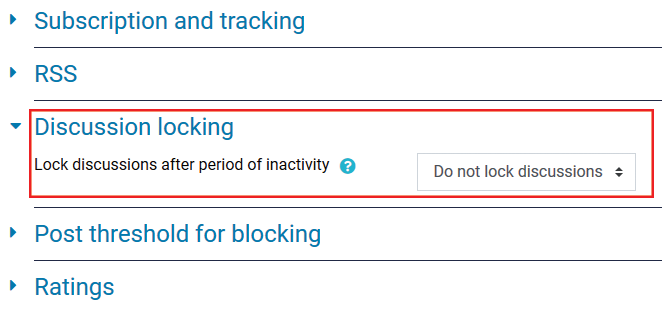 NOTE: If discussion locking is enabled, there is no notification that appears automatically to indicate this to students. The discussion page appears the same, whether or not discussion locking is enabled. The screenshot below shows a student-view of a forum where forum discussion locking has been enabled. Note that there is no automatic warning indicating that the forum will be locked. This means that students may not know that discussion locking is enabled.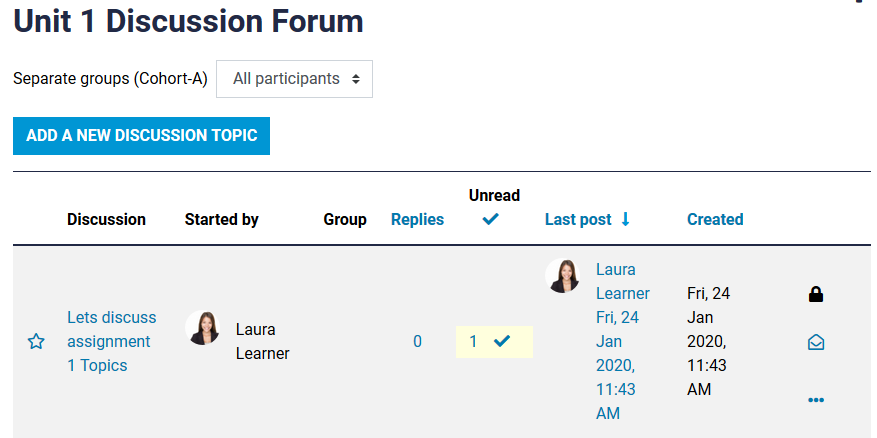 We suggest adding a note in the description of the forum to indicate that the discussion will be locked after a certain amount of time. In the screenshot below, you can see the warning that the instructor wrote when setting up the forum. This lets students know that discussions in this forum will lock after a period of inactivity: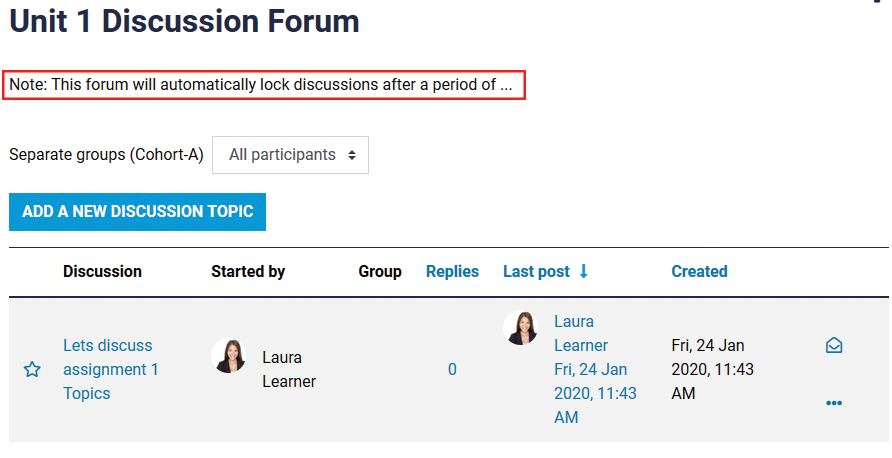 Group Mode - use to set up class and team forums.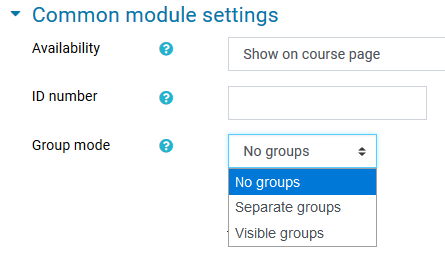 This setting has 3 options:
No groups - There are no groups, everyone is part of one big community - a class wide forum.
Separate groups - Each group member can only read and reply to the their own group's posts; others groups are not visible.
Visible groups - Each group member can read and reply in their own group and can also read other groups' posts, but not reply to them.
Restrict access - use to set-up when students can access the forum.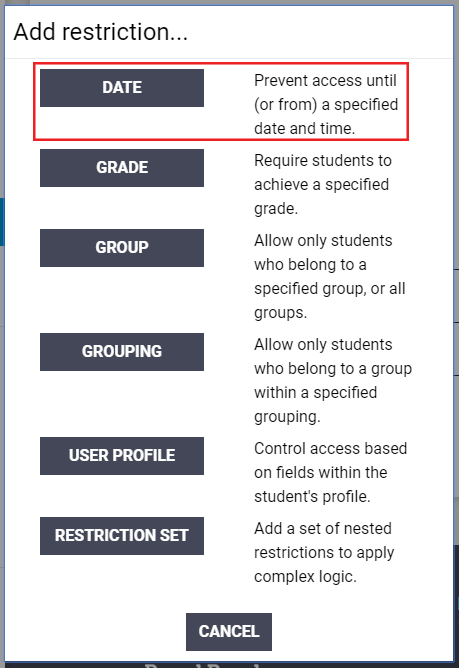 4. When you have finished setting up the forum, click Save and return to course. If you want to review the forum, click Save and display.

---

Content on this page is licensed under a Creative Commons Attribution-ShareAlike 4.0 International license.