The instructions below are for Collaborate Classic, this version asks you to download Java (the Collaborate Launcher).
If you have the newer version, please refer to the Collaborate Ultra instructions, this opens in a browser window like Google Chrome.
First time in Collaborate?
You need a headset with a microphone to ensure a good experience participating in an interactive Collaborate session (you will definitely need one later, to effectively moderate a session). These can be purchased for as little as $20-25 at places like London Drugs, Best Buy, The Source, Walmart, etc. Look for one with "noise cancelling" capability.
Go to the First Time Users Page.
Join the Configuration Room. Here you can test your connection and configure your audio. This room gives you a chance to confirm that your connection and audio are working properly before entering your meeting. This will take approximately 5 minutes.
Take a tour and watch this Online Participant Orientation to Blackboard Collaborate.
Please Note:
If you are calling in to join a Collaborate Session via the telephone, long distance charges may apply as the number is located in the US.
Before joining each session:
Login 15 minutes BEFORE the start time of your session to run the audio setup wizard:

Participants Instructions
Moderator instructions
Need Help?
Visit Blackboard Collaborate Support.
Start Session:
Click on the Join Session button at the top of the Collaborate Room page (do not re-use the collab files). You will be automatically signed in.
If you do not see the Join Session button at the top, the room isn't open yet. Please have the instructor update the start date and time.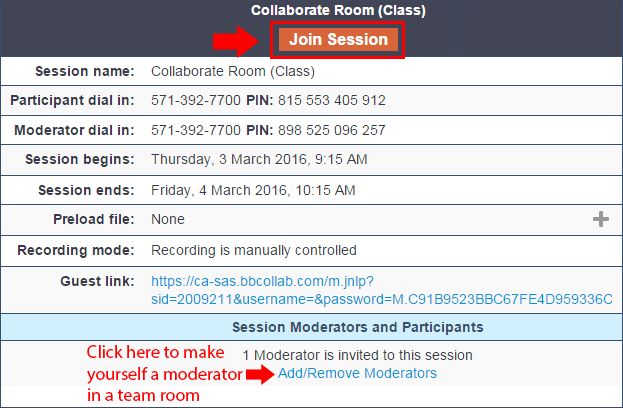 Team Room - How To Make Yourself A Moderator:

If this Collaborate session is a team room (i.e., it has Team in the title instead of Class), and you wish to be a moderator in the session, click Add/Remove Moderators (shown above) to add yourself as a Moderator.
See instructions for how to Add/Remove Moderators.
Common Issues:
You are causing audio feedback when your microphone is on
You are experiencing frequent sound dropouts


This is usually a problem with the quality of your internet connection. If possible, connect to the internet through a cable and not wireless or on a different computer that's connected using a cable.

You're a moderator but do not have a record button

Ensure you click the Join Now button and not the guest link.

You cannot upload slides

Ensure that you're uploading an image or a PPT/PPTX file. PDFs are not supported.
If uploading a PowerPoint file, ensure that PowerPoint is closed.
Try rebooting the computer.

You receive the error "Connection failed: The session is not available at this time"

Click the 'Join now' button and open the collab file that is downloaded instead of an older collab file.

The recording is not appearing

The recording appears at the bottom of the page that has the join button.
Ensure that a moderator started and stopped recording, everyone has left the Collaborate room, and at least 30 minutes has elapsed.