Topics Covered In This Article
Introduction
Introducing Kaltura Capture, the desktop recording application used to record and directly upload your videos and audio into My Media, your media library in Moodle. You can record screencasts, webcams, powerpoint presentation slides, or just audio. To create a new video or audio recording, install the Kaltura Capture desktop recorder to your computer first.
Once you have created and uploaded your media into your My Media library, easily embed it anywhere you see the Moodle text editor. Look for the My Media icon
in the toolbar.
To learn how to install Kaltura Capture, watch this video or read step-by-step instructions below.
How to install Kaltura Capture
From Moodle, click on the User menu in the top right and click My Media.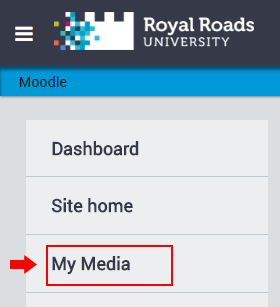 From the My Media window, click on Add New and then Kaltura Capture.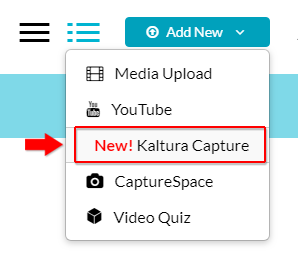 Installing Kaltura Capture
Click on the Download for Windows or the Download for Mac link to download Kaltura Capture.
Follow the prompts to install the software to your computer.


After installing:
It should automatically open, if not reload the My Media page in Moodle or look for the shortcut icon  on your desktop.
To reload it from Moodle, click on My Media, Add New and then select Kaltura Capture from the drop down menu.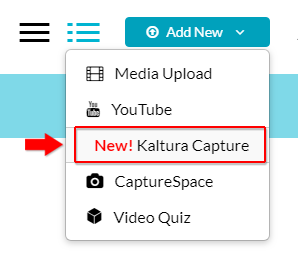 You may be presented with a confirmation window to open this link in the Kaltura Capture software. The confirmation window will look different depending on your browser:


In Chrome and Firefox, in the window select Kaltura Capture, tick the Remember my choice check box and click the Open link button.




In Internet Explorer un-tick the Always ask before opening box and click the Allow button.
In other browsers the options will be similar. Ensure that the software automatically opens.



This is what the Kaltura Capture desktop recorder will look like: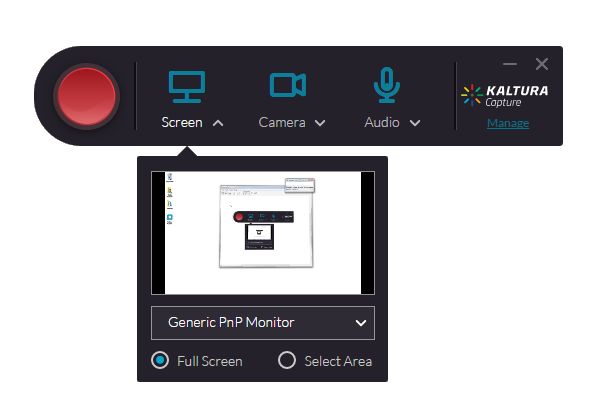 Select your recording inputs (screen, camera and/or audio) and start recording.
Upgrading Kaltura Capture
Kaltura Capture should automatically upgrade. If it does not, uninstall Kaltura Capture first then repeat the above steps to download to re-install it.
Troubleshooting